You can manage your ads on the screens in your venue
How to display ads that appear between Karaoke songs?
Log in http://admin.singa.com/ using your Singa Pro credentials. Add pictures from Venues -> Ad Manager -> Add Image -> download the image you saved from your computer. You can also add multiple pictures at once.

Click the visibility icon to adjust the visibility to publish your ad. Once the image has been downloaded and appears on the screen grid, it will also appear in the Singa Pro application's ad panel.

If the ads do not load immediately in Singa Pro application, press the 'refresh' button in the browser at the top right. Please note that we only support ".jpeg", ".jpg", and ".png" image files. The recommended size of the ad image is 1920 x 1080 pixels.
Manage the on-screen commercials through Singa Pro by pressing Settings -> Advertisements.
Advertisement settings can be adjusted when the venue is online. If you can´t see the Advertisements -tab on Settings, go to dashboard and check in your venue from the right top corner. The dot next to Venue is green when venue is online and red when offline.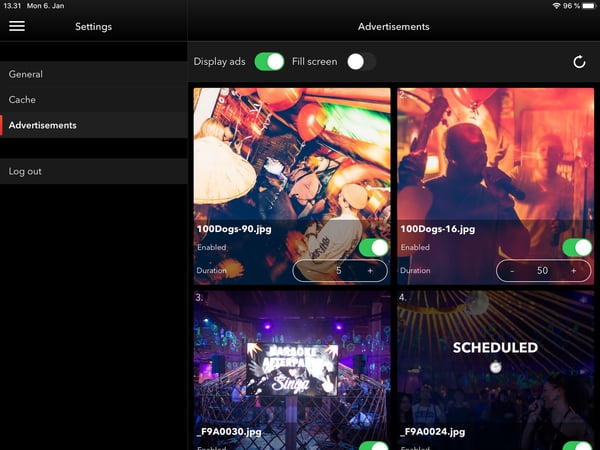 In addition, you can manage your venue information from the membership site (note: address information cannot be edited), make your venue private, or upload Singa Business marketing materials to your web site, for example. See what can you do in the member site here!
Didn't find any answer? Don't worry - send us email to support@singabusiness.com, or chat with us via Singa app or help page!