Find out how to control the timing and codes when using karaoke box mode
Here´s time codes for different setups:
00:01 What is Karaoke Box mode
00:37 How to activate the Karaoke Box mode on Singa iPad
2:39 Managing your karaoke boxes in Singa member page
3:10 How to start a karaoke session
3.32 How to extend or stop a karaoke session
3:43 How to create activation codes
4:36 How to release the iPad from the karaoke box mode
Log in to Singa Business Pro App with your Singa Pro credentials. Navigate to the General Settings from the left upper corner (three stripes).
Here´s our recommendations for settings before using it in Karaoke rooms.
Under General -> turn Select popular variant -> On
Under Queue -> turn Auto Play -> On.
Turn Auto Accept -> On.
Turn Require name -> Off.
Enable Box mode - give a name to the device.
These settings are added first because the Box mode disables the usage of the device elsewhere.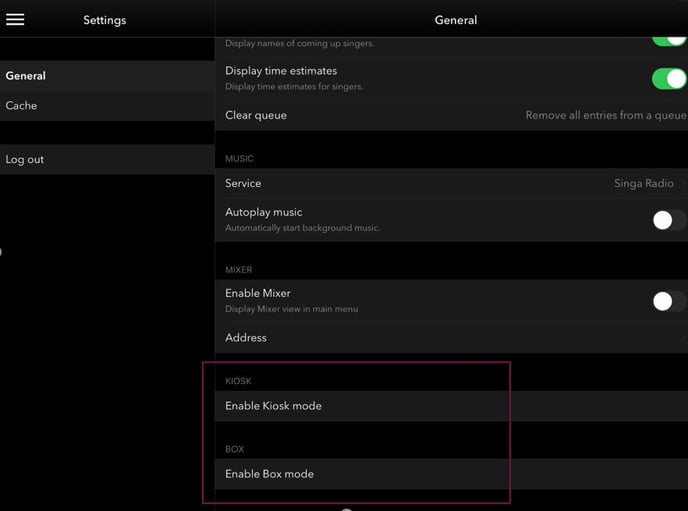 Now enter the memberpage. Use the Singa Pro username and password for logging in.
From Device Management choose Codes
Press Generate a new code (the green button)
Give time duration (minutes)
Take the iPad and give the code and press OK
Now you will see the dashboard and can start adding songs to the queue. The time estimation will appear on the dashboard and the device will lock itself automatically when the time has expired.
These settings are suitable for your customers independent usage of Singa device in karaoke rooms or booths. Check more info about How to use the Karaoke Box.
Didn't find any answer? Don't worry, send us email to support@singabusiness.com or chat with us via help.singabusiness.com.