You can manage your ads on the screens in your venue
How to use promotional ads
Ads will be displayed between songs when the karaoke is running. The duration for the ads can be set via the admin page and within the Singa Pro app. If there's a pause during the karaoke session, you can tap Show Ads below the miniature player view to display the ads as a slideshow. Tap Continue karaoke to resume playback.
How to set them up
Log in to the Singa Business Admin page using your Singa Pro credentials. Add pictures from Venues > Ad Manager > Add Image > Upload the ad image from your device. You can also add multiple photos at once. The recommended aspect ratio of the ad image is 16:9 (Full HD 1920 x 1080 px, 4K 3840x2160 px). Please note that we only support ".jpeg", ".jpg", and ".png" image files. So that you know, your venue needs to be online for advertisements to be displayed.




Click the visibility icon to adjust the visibility to publish your ad. You can change the order of the ad images by dragging and dropping. Once the image has been uploaded and appears on the screen grid, it will also appear in the Singa Pro application's ad panel.

How to schedule ads
With Singa's Ad Manager, you can schedule your promotional ads for different periods, days etc. Here's how to set it up:
Duration - Set a duration for how many seconds the selected ad will be displayed
Visible - When activated, the selected image will appear in your ad rotation
Days active - You can choose which days of the week the ad should appear. The default setting has all days active
All day/Specific hours - The ad can be displayed all day, or you can choose specific hours for the selected ad (e.g. happy hours promos)
Starting date/Ending date - Select the dates during which you want the image to be in rotation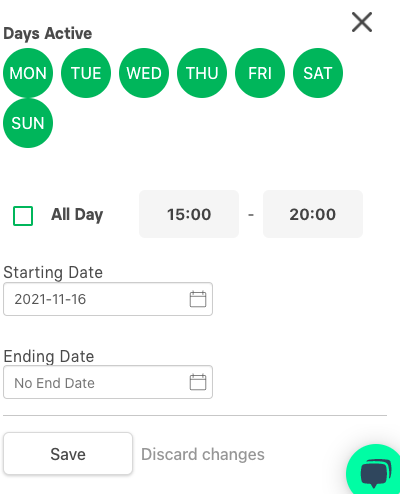 Managing ads through the Singa Pro app
You can also manage the on-screen ads through Singa Pro by pressing Menu > Settings > Advertisements. From here, you can set the duration in five-second increments and toggle an ad appearance on and off. To change the rotation order, tap Edit in the top right corner, drag and drop the ads, and then Done.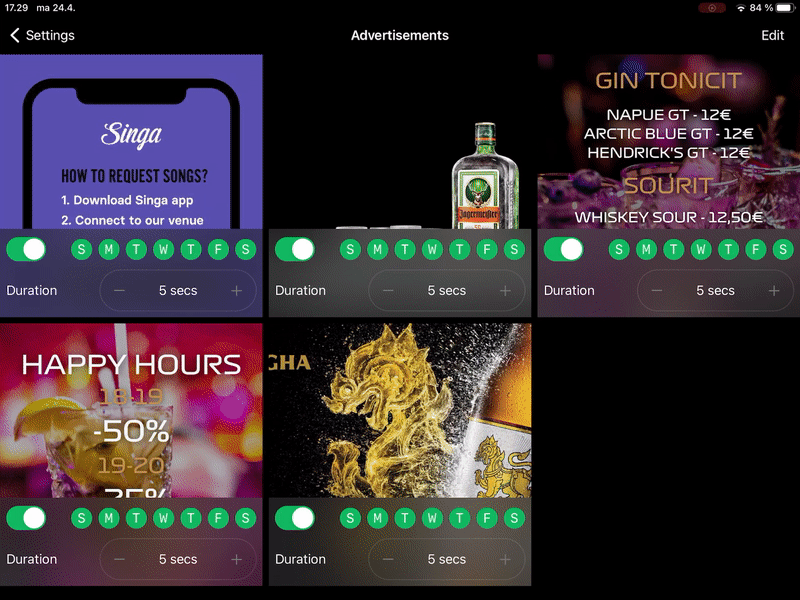 If you can't see the Advertisements tab in Settings, you can go to Karaoke and make sure your venue is online. The dot next to Venue in the top right corner is green when the venue is online and red when offline.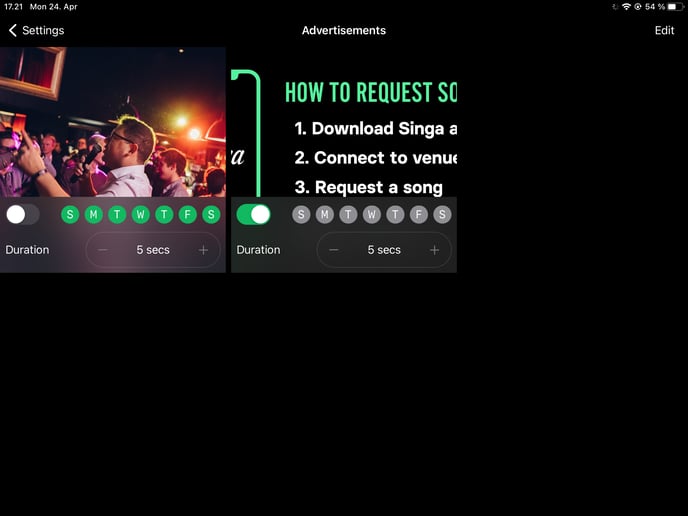 Couldn't find your answer? Don't worry; email us at support@singabusiness.com or chat with us through the Singa Pro app via the Help page or Admin page!