Your Singa experience can be tailored to your specific needs using the powerful settings available in the Singa Pro app
Queue setting
From the Dashboard view, you will find Queue settings under Menu (three stripes, top left) > General > Queue. Here is a description if the different settings you have at your disposal.
Auto Play
When Auto Play is enabled, Singa will automatically play the next song in the queue. When disabled, you need to press the Play button when you want the next karaoke song to start.
Auto Accept
When Auto Accept is enabled, Singa will automatically add new requests sent from the Singa Mobile app or a Singa Discovery station to the queue. When disabled, you will receive a notification in the bottom right corner of the screen, from where you can either Accept or Decline the request.
Display coming up singers - Display time estimates
You can choose whether or not to display the upcoming singers with or without time estimates.
Clear queue
Clearing the queue removes all the songs from the karaoke queue.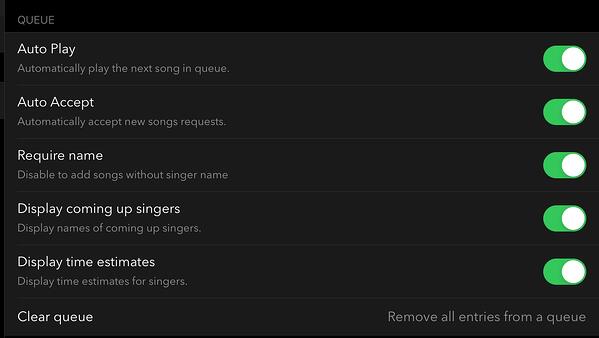 Controlling the queue
From the dashboard view, you can control the queue to deliver a smooth experience for your customers.
Start song – Plays the next song from the queue
Pause – Pauses playback, press Start song to resume
Start over – Stops the karaoke playback and returns the song back to the queue.
Next – Skips the current song in the queue and starts playing the next one.
Change order of the song – There are two ways of changing the order

Tap Edit on the top left of the queue. Tap and hold the three lines to the right of the song and drag it to your desired position in the queue. Press Done.
Swipe the song from right to left and press either Move to top or Move to last.


Delete a song - Swipe once from right to left do delete a song.
Hot tip! If your upcoming singer is not available, you can either move the song further down the queue or select song number 2 from the queue if you think number 1 will be back soon.


Couldn't find your answer? Don't worry, send us an email on support@singabusiness.com or chat with us through the Singa Pro app, via the Help page or Admin page!