You can easily use any device as a kiosk tablet at your venue to let your customers add songs to the queue faster. We do however recommend using an iPad
Adding Singa Check-In to the home screen of your device
If you're using an iPad and the Safari browser, follow the below steps. Most devices and browsers have a similar option, please check the help page for the device/browser setup you are working with.
Open checkin.singa.com in Safari
Press the Share button on the top right of the screen
Tap Add to Home Screen and open the Singa Check-In "app" from the Home screen
Log in with your Singa Pro credentials
If you are having issues with logging in, please clear your browser history. After clearing is done, open the "app" again and try logging in.
Adding the Singa Check-In on an Android device
Open a browser on the device, e.g. Chrome
Log in to checkin.singa.com with your Singa Pro credentials
Open the browser's menu and select Add to Home screen
This either adds the application directly to the home menu, or you have to move it from the home screen to the home menu separately
Locking the device from any other usage
By locking the device, you ensure that your customers cannot access any other features or menus of the device. First, you need to set up a screen lock.
On an Apple iPad
Navigate to Settings > Accessibility > Guided Access > ON.
Choose Passcode Settings and then set up the passcode.
Enter the passcode and then confirm it by re-entering. You can also allow access to Face ID or Touch ID for ending Guided Access user sessions.
Start a Guided Access session
Open the Singa Check-in app
On an iPad without a physical Home button, triple-click the side button. On an iPad with a Home button, triple-click said Home button.
Tap Guided Access, then tap Start.
On an Android device
Open the device Settings
Find Security, then scroll down to App Pinning
Switch Use app pinning on
It's suggested to also activate "Ask for unlock pattern before unpinning" to make sure customers can't access the rest of the device if they happen to unpin Singa Check-in
When this is done, please open the Singa Check-in app and follow the below instructions.
Open the Recent Apps view by pressing the square button in the navigation bar
Tap and hold the Singa icon in the top middle of the screen
Select Pin
Singa Check-in is now pinned to the foreground.
Please note, the availability of and steps to activate App pinning might differ depending on the device manufacturer and Android version.


This setup helps your customer to add song requests from a separate device located within your venue. You are also able to receive song requests from Singa mobile app users or add them from your main Singa Pro device. Read more about song requesting here.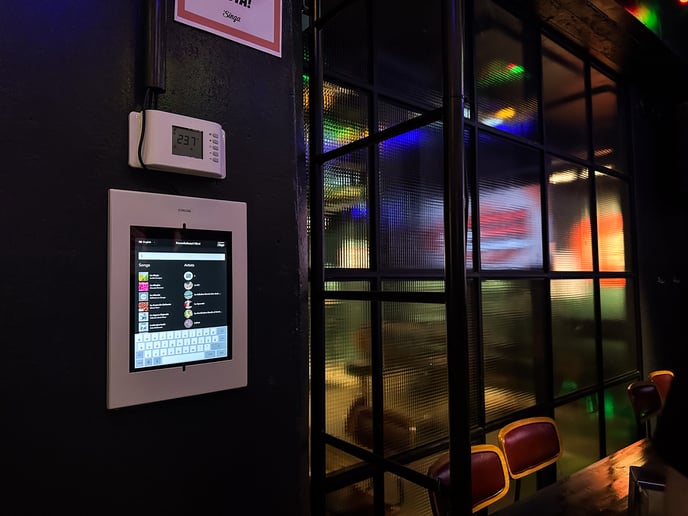 Couldn't find your answer? Don't worry, send us an email at support@singabusiness.com or chat with us through the Singa Pro app, via the Help page or Admin page!