By activating Kiosk mode you can let your customers use the main Singa Pro iPad, locking all other features of the device. The Kiosk mode is usually used in Self service Karaoke spaces.

Here are video time stamps for different setups:
00:04 What is Kiosk mode?
00:21 When should you use the Kiosk mode for karaoke
00:31 How to enter the Kiosk mode
1:25 How to release the iPad from the Kiosk mode
The Kiosk mode is an option for letting your customers use a Singa Pro device independently. It can be enabled from the Singa Pro app's settings. Please keep your Singa Pro password handy, as you will need it to disable Kiosk mode.
Open to Settings by pressing the three stripes in the top left corner and then find Kiosk > Enable Kiosk mode.
When activating Kiosk mode, the app automatically sets playback settings for the best experience (e.g. Autoplay on). To override this and keep your own custom settings, you can activate "Override default kiosk and box mode settings".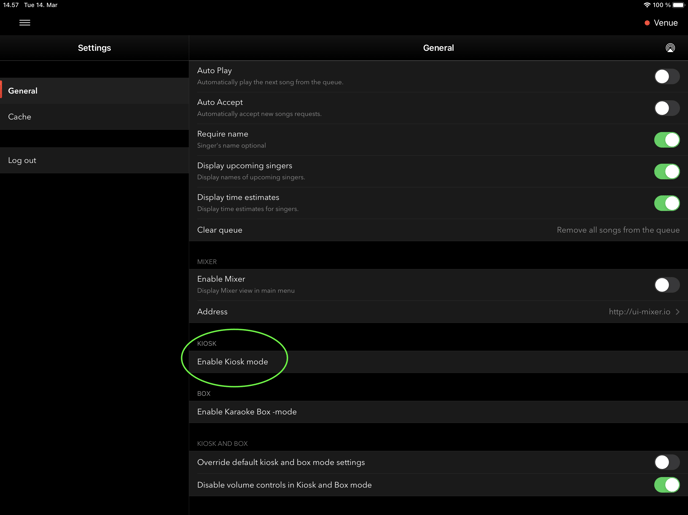 All other features of the iPad will be locked. To disable the Kiosk mode, tap the padlock in the top right corner and enter your Singa Pro password.
Please note that an internet connection is required when using the Kiosk mode. If your internet connection is lost, all features of the iPad are accessible by pressing the Home button. When the internet connection is restored, Kiosk mode will be reactivated automatically once the app is opened.
Couldn't find your answer? Don't worry, send us an email on support@singabusiness.com or chat with us through the Singa Pro app, via the Help page or Admin page!